New Look, Same Formula.
Exciting news! We've elevated the look and feel of the Medterra brand to reflect the excellence of our products. As we roll-out this fresh look across all of our products, you may receive items labeled with original packaging or our updated look - but rest assured its the same great product you love either way. Thank you for understanding!
Product Details
Description:
Fold Hemp into your daily regimen and experience the full range of hemp's benefits. Our True Full Spectrum Hemp Capsules provide a deeper Hemp experience in an easy to take, vegan capsule without additives or fillers.

Each serving contains 2mg along with 50mg of Hemp and 8mg of other beneficial hemp plant compounds. This powerful 5:1 ratio of Hemp to other hemp counds and the added power means that the many helpful compounds of the hemp plant all work together toward your wellness via what's known as the "entourage effect."
Your Trust. Certified.
Our products are third-party tested to confirm accuracy and ensure levels are below the legal limit of .3% (by weight).

Due to the presence of Mood-altering ingredients, users of this product may test positive for hemp counds in a drug test. May cause drowsiness. Do not drive or operate heavy machinery after use.

Servings
30 count - 50mg servings
Flavorings
Unflavored
Recommended Use
Take one serving size (2 capsules). Use regularly and for a prolonged period for maximum effectiveness.
Ingredients
Active Ingredients
Other Ingredients
Full Spectrum Hemp Extract
Medterra's proprietary full spectrum hemp extract with a 5:1 ratio of Hemp to other hemp compounds.
Organic MCT Oil (Medium Chain Triglycerides)
Silicon Dioxide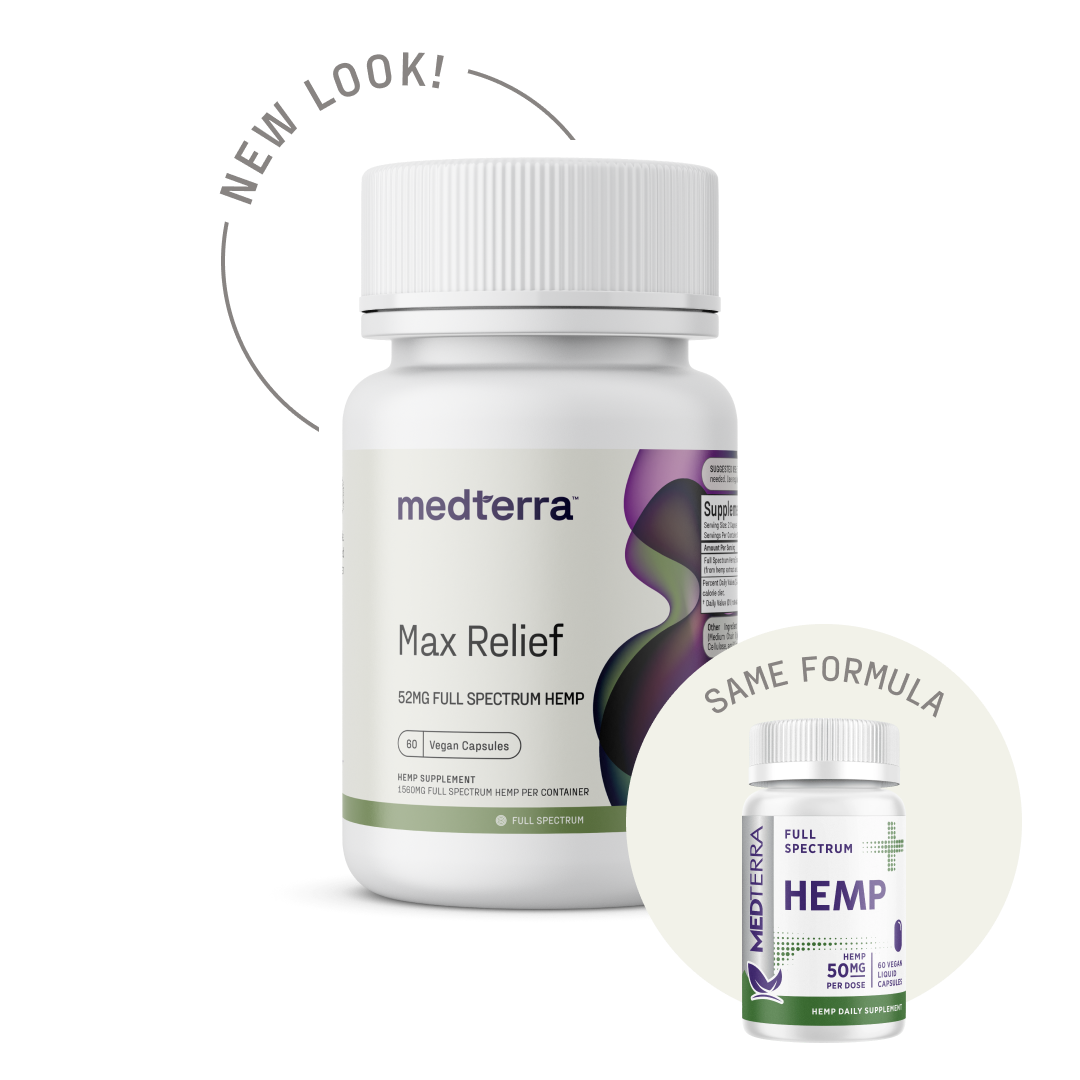 True Full Spectrum™ Hemp Capsules FAQ
Do full spectrum capsules include Hemp Compounds?
Will full spectrum Hemp capsules make you feel high?
Will these Hemp capsules make you sleepy?
What's the difference between full spectrum and regular Hemp capsules?