Make any moment
delightful

Immediate enjoyment.
A maximum strength dose of Hemp provides immediate feelings of pleasure after just one gummy. This allows you to be present and fully enjoy your surroundings.
A buzzworthy chill.
Enjoy a pleasant buzz from a single gummy, bringing you a fun and uplifting moment that elevates your mood whenever you need a pick-me-up.
Sweet, small moments.
These delicious and bite-sized gummies and their travel-friendly container make it easy to create moments of joy wherever and whenever you need them most.
Product Details
Description:
Crafted with 5 mg of Hemp per gummy, Daily Delight gives you permission to think about wellness not as a strict routine, but as a method to make time for yourself or elevate any social experience.
This maximum strength dose offers a noticeable buzz and feelings of pleasure after just one gummy. It's perfect for taking the edge off whenever and wherever you need to. While a potent wellness gummy, it will not make you feel impaired when taken in recommended doses.

Your Trust. Certified.
Our products are third-party tested to confirm accuracy and ensure Full Spectrum levels are below the legal limit of .3% Full Spectrum Hemp Extract (by weight).

Due to the presence of Full Spectrum Hemp Extract, users of this product may test positive for hemp in a drug test. May cause drowsiness. Do not drive or operate heavy machinery after use.

*May vary slightly per batch, please reference lab results for detailed breakout.

Prop 65 Warning: Product contains Full Spectrum Hemp Extract. California has recognized Full Spectrum Hemp Extract as potentially causing reproductive harm - p65warnings.ca.gov
Servings
20 servings
Recommended Use
Take one gummy during the day or as needed.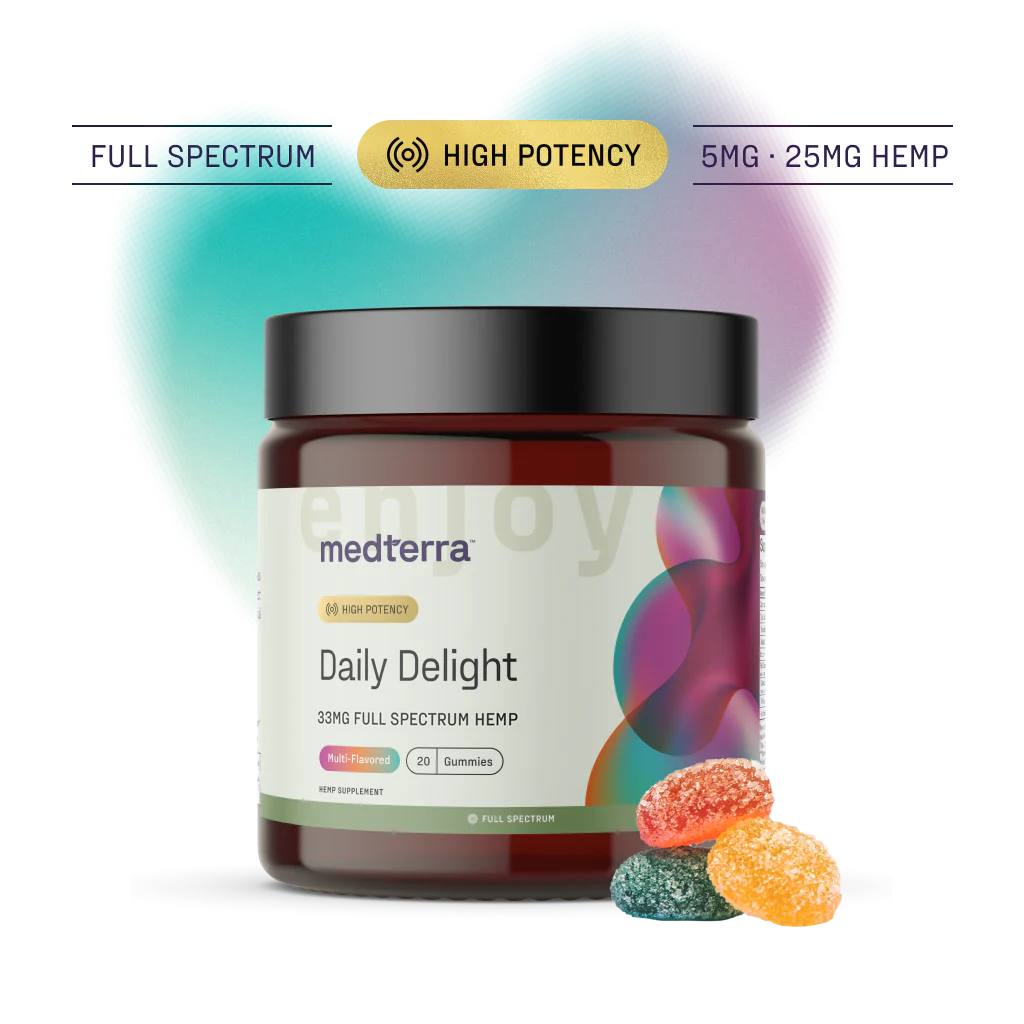 Daily Delight Full Spectrum Gummies FAQ
Do Medterra's Daily Delight gummies contain any enhancing compounds?
How long do Medterra Daily Delight gummies stay in your system?
Is it legal to ship Medterra Daily Delight gummies across the US?
What is the entourage effect and how does it work?
What are the benefits of Medterra's Daily Delight gummies?
What are the components of Medterra Daily Delight gummies?
What does full spectrum mean?
How long does it take for Medterra's Daily Delight gummies to take effect?
Can consuming these gummies cause me to test positive on a drug test?